Emigration specialists reveal a spike in the number of South African citizens investigating or applying for foreign citizenship or residence abroad.
South African citizens can enter 97 countries with a South African passport without requesting a visa beforehand. Still, there are growing numbers who apply for foreign citizenship or residence, which some see as a "safety net" that provides better education and business opportunities.
"Until the end of last year [2014], we would get an emigration inquiry about once every two weeks. Now we are fielding about nine or 10 emigration inquiries a day", Chris Watters, a lawyer working on immigration and emigration issues, told the Mail & Guardian. He said his law office in Bedfordview, Johannesburg, had seen a spike in demand in the past six months.
While some South African citizens resort to their family history to obtain a second passport, others turn to specialised lawyers.
Citizenship by investment programmes is an option for the well-heeled: countries such as Malta sell residence permits or citizenship in exchange for financial investment in the country.
The United Kingdom, the United States, Malta and Cyprus are among the most popular options to South Africans seeking to emigrate. Each has a citizenship or residence-permit programme established by its government.
Henley & Partners, a company that specialises in residence and citizenship programmes such as these, opened an office in South Africa three years ago.
Vice-chairperson Andrew Taylor has confirmed an increase in demand. "There has been an increase of 50% more inquiries from South Africans in comparison to the same time last year."
The pace of queries has been accelerating. The company now receives five to 10 a day.
Taylor says his clients plan to emigrate because it will provide their children with opportunities to work and study more easily. The company has also had inquiries from those running global businesses who need access to Europe or Northern America.
Taylor acknowledged that his clients were among the wealthiest 5% in the country. The emigrant needs to invest up to £2-million (about R39-million) to buy a permanent UK residency permit and, after five years, apply for citizenship. In Cyprus, they'd have to invest R34-million to be granted citizenship straight away.
Here is a list of countries South Africans may apply to and their related financial requirements, according to Henley & Partners. Not mentioned is Spain whose Golden Passport is about R5 Million.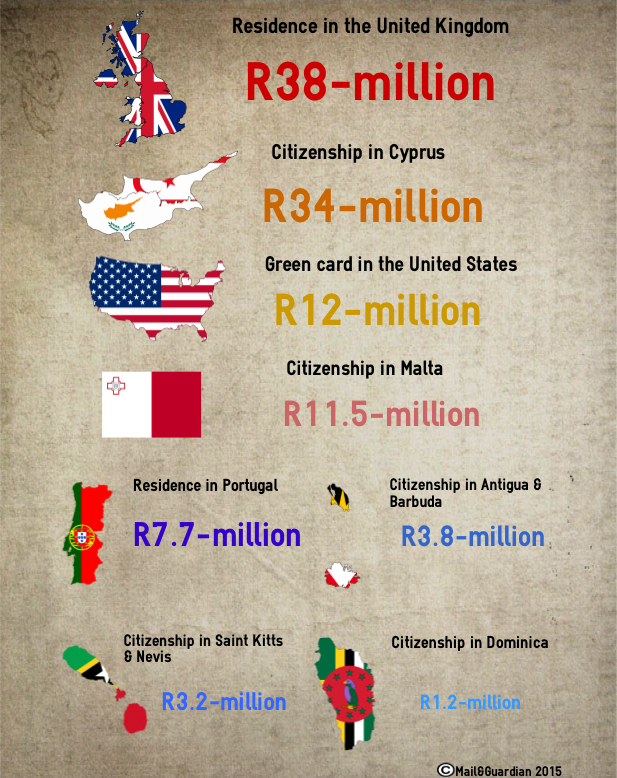 Henley & Partners has seen a spike in demand in the past 18 months that coincides with the Maltese government contracting the company to recruit new citizens: 70% of the firm's South African clients now choose a Maltese passport, which requires them to disburse around R11.5-million in investments and fees. Portugal ranks second among the company's clients.
Danilo Ghirlando, honorary consul for Malta for the past five years, declined to divulge how many South Africans had applied for citizenship, but said the number of applications had "roughly doubled" since he took up this position.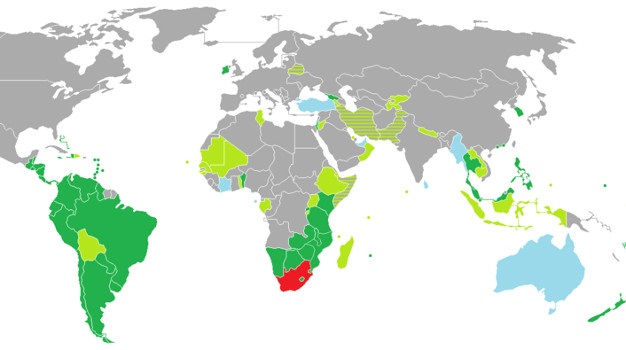 As any local without Ancestral Visas or dual citizenship may know, travelling on a plain old green South African passport is no joke.
Before even thinking about entering most countries around the world, we are required to pass the ultimate endurance test: a visa application.
Reams and reams of paperwork, sweaty-palmed interviews, exorbitant amounts of money and throbbing admin headaches later, we may or may not be allowed to hop in and out of a destination as fast as our little legs can carry us.
And for all those endowed with a generous dollop of wanderlust, it really just is a bit of a party pooper.
Or, at least that's the general perception.
However, if you delve just a little bit deeper, it turns out that the world is actually a whole lot more open to us than we may have thought!
All in all there are 97 countries around the globe we can enter on our passports alone, and while they may not be the US, Canada, Australia or most of Europe, there are some pretty dang exciting places to go.
Here's a round-up:
Africa 
Most SADC countries are accessible to us without a visa, as long as we're going there for vacation. Any form of work – even volunteering – requires some form of a visa, so make 100% sure what the rules are beforehand.
Here is the full list of African countries we can enter without visas:
Benin, Botswana, Gabon, Kenya, Lesotho, Malawi, Mauritius, Mozambique, Namibia, Rwanda, Saint Helena, Senegal, Seychelles, Swaziland, Zambia and Zimbabwe.
And then a few where we get a visa on arrival:
Cape Verde, Comores, Egypt, Ethiopia, Madagascar, Tanzania, Tongo, Tunisia and Uganda
South and Central America
The good news is that pretty much the ENTIRE South and central America is accessible to us on nothing but a passport, with the exception of, among others, Suriname, French Guiana, Mexico, Cuba, and Puerto Rico.
Here is a full list of the South and Central American countries we can enter on our passport:
Antigua and Barbuda, Argentina, Bahamas, Barbados, Belize, Brazil, British Virgin Islands, Cayman Islands, Chile, Colombia, Costa Rica, Dominica, Ecuador, El Salvador, Falkland Islands, Grenada, Guatemala, Guyana, Haiti, Honduras, Jamaica, Montserrat, Nicaragua, Panama, Paraguay, Peru, Saint Lucia, Saint Vincent and Grenadines, Turks and Caicos Islands, Uruguay and Venezuela.
North America
Sorry, folks, it's a no go. Visas are a must. Check out what you need for the US Visa application process.
Europe
Well, it's mostly closed to us, except for a few surprising destinations we can enter without a visa.
Ireland, Kosovo and, this just in, since 1 March South Africans no longer require visas to get into France's Reunion Island.
Asia
Georgia, Hong Kong, Macau, Malaysia, Maldives, Philippines, Singapore, and Thailand.
Visa on arrival
Armenia, Bangladesh, Bahrain, Cambodia, Indonesia, Laos, Nepal, Sri Lanka, South Korea, and Timor-Leste
Middle East
Israel  and Jordan
Visa on arrival
Oman and Turkey
Oceania 
Cook Islands, Fiji, Federated states of Micronesia, Nauru, New Zealand, Niue, Palau, Samoa, Tuvalu, Vanuatu