'n Nigeriese man wat glo met 'n Suid-Afrikaanse paspoort reis, word in Thailand in verband met moord gesoek.
John Odoemenam van Nigerië reis glo met 'n vervalste Suid-Afrikaanse paspoort met die naam van Mzwakhe Memela, berig Within Nigeria.
Die Bangkok Jack en The Thaiger, nuusagentskappe in Thailand, het Maandag berig dat hulle 'n Suid-Afrikaner in verband met die moorde soek, waarna nuusagentskappe in Nigerië berig het dat die verdagte eintlik 'n Nigeriese burger is.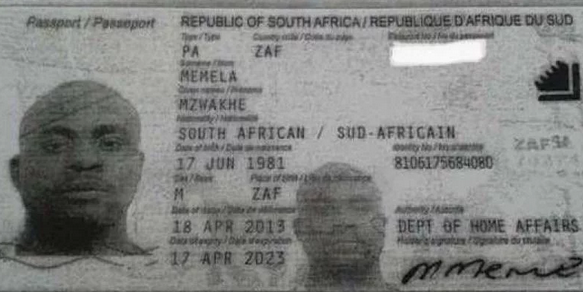 Die Thaise media berig dat hul grensposte in kennis gestel is nadat Susama Reunrit (35), 'n Thaise vrou wat juweliersware verkoop, in 'n hotel vermoor is.
Reunrit is glo met iets teen die kop geslaan, waarna sy in 'n kombers toegedraai en op die vloer gelos is.
Haar lyk is op die sesde verdieping van 'n hotel in Bangkok gevind. Daar was bloed en 'n stukkie van 'n toiletbak op die bed.
Beeldmateriaal is nagegaan, waarna die "Suid-Afrikaanse" man as verdagte geïdentifiseer is.
Reunrit het volgens die beeldmateriaal omstreeks 21:50 by die hotel ingeboek en uitgegaan om te eet.
Sy het om en by 04:00 teruggekeer.
Teen 08:00 is ene Mzwakhe Memela by haar kamer in, waarna hy teen 08:45 die kamer verlaat het en "verdag" gelyk het, berig Bangkok Jack en The Thaiger.
Niemand anders het volgens die beeldmateriaal haar kamer binnegegaan nie.
Volgens Within Nigeria en Gist Mania, nuusagentskappe in Nigerië, is die "Suid-Afrikaanse verdagte", John Odoemenam, 'n Nigeriër.
Die polisie vermoed dat Odoemenam moontlik 'n ooreenkoms met die vrou oor juweliersware wou bereik, maar haar dalk vermoor het nadat hul onderhandelinge skeefgeloop het.
Hulle vermoed hy het na Hongkong gevlug omdat Hongkong en Thailand nie 'n uitleweringsverdrag het nie.
The Nation berig dat die polisie in Thailand Interpol gevra het om met die soektog na die "Suid-Afrikaanse man" te help.
Foto: The Nation het 'n foto van die verdagte se "Suid-Afrikaanse paspoort" gedeel.
Netwerk 24
Hierdie berig weerspieël nie noodwendig die mening van SAUK-nuus nie.
---