Victims Of Farm Murders In South Africa Under The Spotlight In Perth – Australia.
Leading criminologist Lorraine Claasen and the deputy CEO of AfriForum, Ernst Roets, will be giving an overview of farm attacks in South Africa and the impact these crimes may have on its victims at the 15th International Symposium of the World Society of Victimology (WSV) in Perth. They have been invited to give a presentation at this esteemed event which takes place at the Perth Convention and Exhibition Centre from 5-9 July 2015.
An informal discussion on farm attacks in South Africa and the 'Worldwide' movement launched by Afriforum to create international awareness about the atrocities committed against South Africans will be held at the Coffee Club in Joondalup on Wednesday, 8 July at 10.00 am. The editor of Merise magazine, Suzette van der Heijden, will be leading the discussion. This is an open invitation an there is no cost involved apart from your order at the Coffee Club, but please send a confirmation to info@merisemedia.com.au if you wish to attend to assist with the catering.
Afriforum is a non governmental, not for profit organisation protecting the rights of minorities in South Africa. Merise magazine is a local glossy magazine which shares local knowledge and provides emotional support to people who have migrated to Australia, and Perth in particular.
This Symposium places Western Australia at the forefront of victim support services. It is being organised by the World Society of Victimology (WSV), Victim Support Australia, angelhands and the Australian Institute of Criminology with considerable support from the Western Australian Government. International and Australian presenters from the broader discipline of Victimology will be brought together in our beautiful city.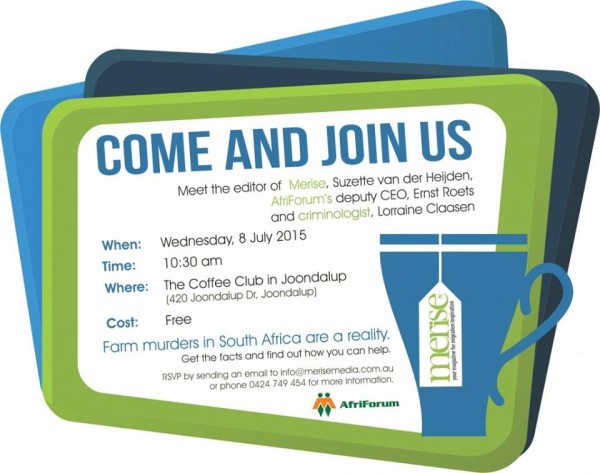 The theme of this year's symposium is the challenging orthodoxies of victimisation, justice and healing. This theme is designed to provide a focus on sharing best practice, emerging responses and a critical reflection on contemporary conceptualisations of victimisation and justice in various settings and disciplines – from the world of 'ordinary' crime, to post-colonial and post-conflict settings, and to transnational, cyber and institutional environments.
Victim assistance practitioners, social scientists, social workers, physicians, lawyers, civil servants, volunteers, university academics of all levels, and students will present and share research findings on a variety of topics concerning – and crimes committed against – victims.
The World Society of Victimology (WSV) was brought together by a mutual concern for victims and aims to advance victimological research and practices around the world; to encourage interdisciplinary and comparative work and research in this field, and to advance cooperation between international, national, regional and local agencies and other groups who are concerned with the problems of victims.
The Symposium will be opened by Rabia Siddique on Sunday, 5 July 2015. Rabia is a Perth born criminal and human rights lawyer, a retired British Army officer, a former terrorism and war crimes prosecutor, a humanitarian, professional speaker, facilitator, coach and published author.
The official conference opening will start at 4.00 pm. Further Sunday opening speakers include WSV President Prof Dr Marc Groenhuijsen, and Chair of Victim Support Australia and NSW Commissioner of Victims Rights Mahashini Krishna.
The previous Symposium of the World Society of Victimology was held in The Hague, The Netherlands in 2012 and focused on Justice for Victims: Cross-cultural perspectives on conflict, trauma and reconciliation.
More information on the Symposium can be found at (https://www.eiseverywhere.com/ehome/victimology2015/about/)